If you purchased a domain name on Brandpa and would like to transfer it to iWay.ch (knowing that domain name is currently hosted with a different registrar), please follow these instructions*:
1. Make sure you're logged in to your account on iway.ch
2. Go back to the home page, and click Domains:

3. Scroll down, and click on the Transfer domain button:

4. Then, In the Domain Namen field, type in the domain name that you are transferring (the domain name you bought on Brandpa):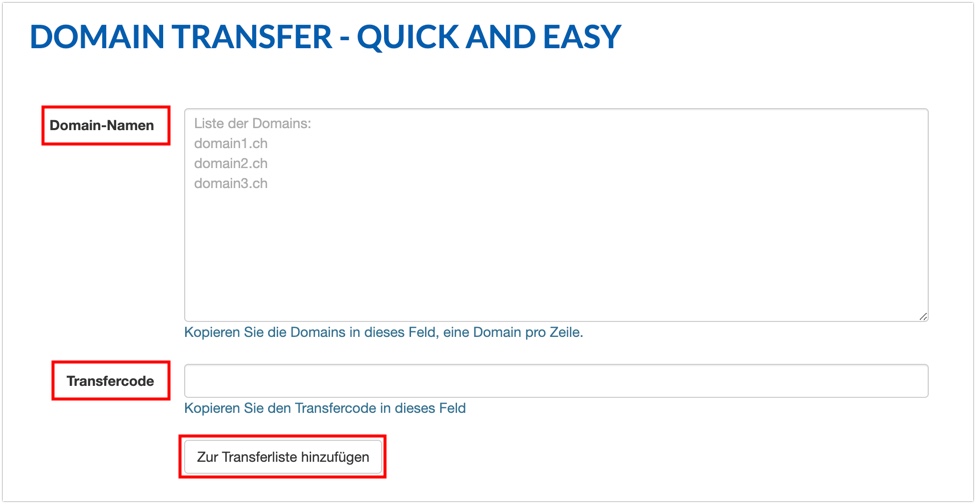 5. And in the field: Transfercode, please paste this authorisation code you've been provided by Brandpa:
6. Lastly, click on the Zur Transferliste hinzufügen button.
7. Once the above steps are done, please follow the remaining steps that you will be provided with by registrar, i.e. you might need to cover the transfer fee your registrar charges, and confirm your contact / payment details.
8. After you complete all the steps the registrar provides you with, please go back to Brandpa's sales webpage (which you received via an email) to tell us that you'd started the transfer on your end.
If you have any questions, please Submit a support ticket. We'll be happy to help
* Please note: the iway.ch website is in German. The exact wording of the instructions above, might differ slightly as our instructions are written in English.